THIS IS THE ASRN RADIO SITE,American Radio Network is a Commercial Free Audio Service providing News, Information, Book-Magazine-Newspaper Readings, Nostalgia and Old Time Radio for The Blind,Disabled and Seniors.
ASRN provides programming to a 50+ mature audience and showcasing products and services that effects the lifestyle of seniors and baby boomers within Clark County and having a strong influence of current and or future purchases i.e.; Adult Care, Financial Investments, Legal, Estate Planning, Hair-Personal Care, Hearing or Vision, Healthy Eating, Insurance, Shopping, Travel, Home Maintenance, etc.

ASRN does provide timely information that effects the 50+ Generation such as upcoming community events from The City, Civic Groups, Non Profit, Advice, Classes, Educational, Distance Learning, Social Issues, Nutrition, Medical, Retirement, AARP, Wellness, Recycling, Public Transportation, Meals on Wheels, Community Centers, Clark County programs and MORE at no charge.

AMERICAN SENIOR RADIO NETWORK is located in Vancouver Washington.

TO DONATE BELOW
I'm PayPal Verified
ASRN Radio is an NON Commercial operation, and is MAINLY self supported, but FREEWILL Donations ARE Accepted always, this is to help this service broadcast for those who listen and enjoy this programming and it helps it stay on the air and ALL donations help to maintain the minimum requirements to stay on, THANK YOU!
CLICK BELOW

CLICK ABOVE

PART ONE BELOW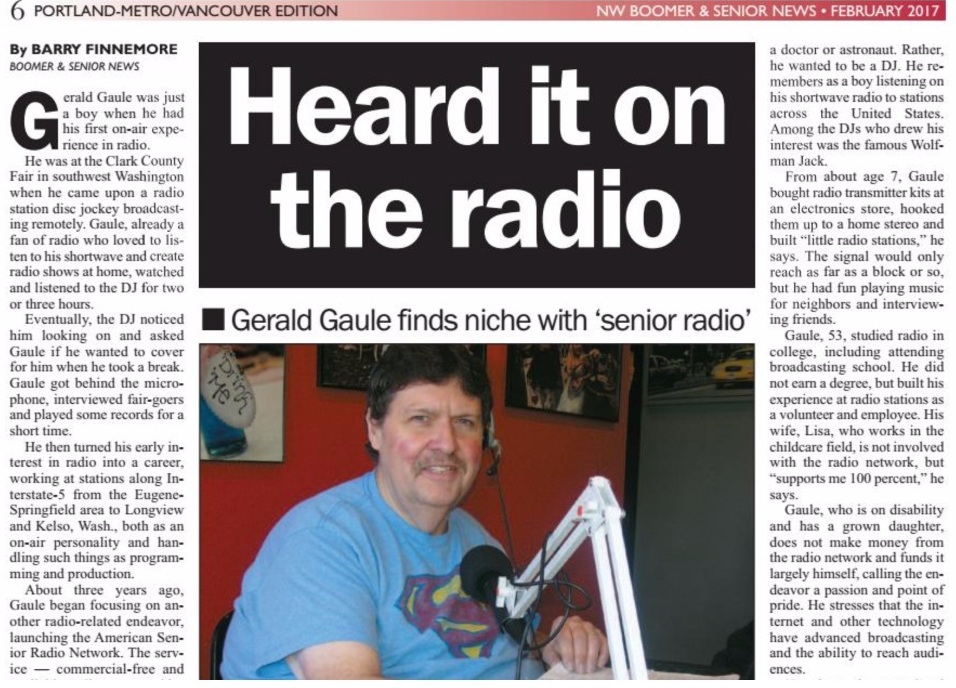 PART TWO BELOW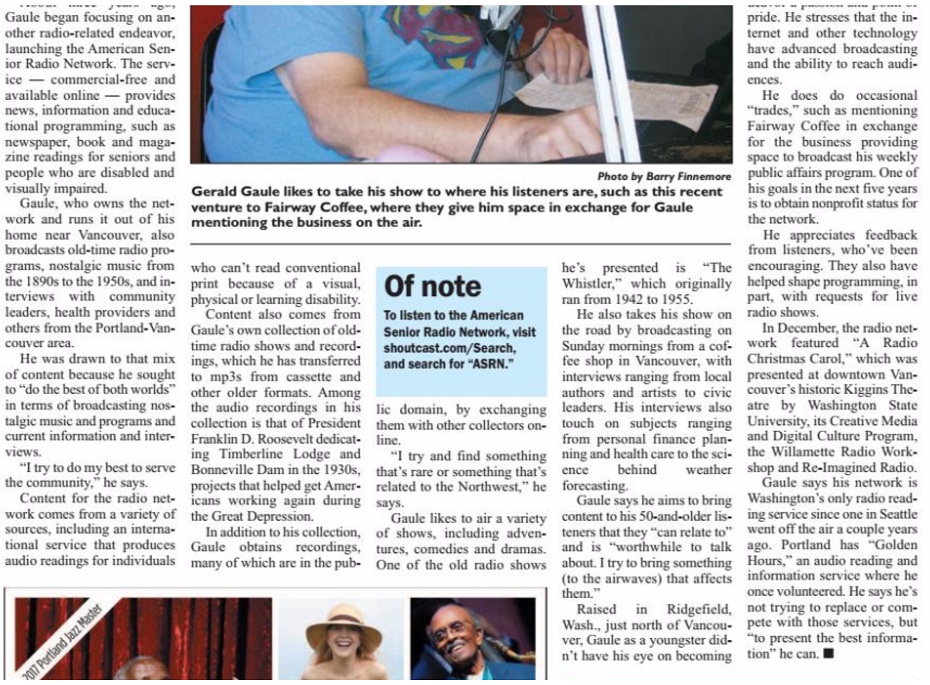 ASRN HAS PERMISSION FROM BROADCASTERS, PROGRAM PRODUCERS AND OTHER SOURCES TO RE-BROADCAST PROGRAMMING TO SERVE THE BLIND, DISABLED AND SENIORS..
To pay tribute...WE WILL MISS YOU

Washington Talking Book & Braille Library

As early as 1934, the library introduced talking books on special 33 RPM phonograph records,at the time, normal records were all 78 FORMAT. In 1962, 16 RPM records were introduced, and still later 8 RPM flexible discs. These formats remained in service until 2001. They were superseded because in 1969 the National Library Service had started a cassette talking book program.

The Radio Talking Book Service was founded March 22, 1973. It became the Radio Learning Service in 1977 and the Evergreen Radio Reading Service on April 25, 1983.

The library began doing professional Brailling and taping services in July 1975, and revitalized the Braille program in 1985. The radio reading service remained in operation until August 15, 2014, when it was discontinued due to loss of funding.

A formal childrens program was established in 1983.

FROM THE WTBBL SITE..

As some of you may know, the Evergreen Radio Reading Service (ERRS) lost its funding at the end of 2011, and has since been operating in a severely diminished capacity. The closure of ERRS is a great loss to the community and Washington Talking Book & Braille Library (WTBBL) patrons, however it has become extremely difficult to keep the station operating without funding and staffing.

On August 15, ERRS will cease broadcast so that resources can be directed to the rest of WTBBL patron services.